FB3000: Single Lane Flap Barrier
FB3011: Single Lane Flap Barrier with RFID Access Control System
FB3022: Single Lane Flap Barrier with Fingerprint and RFID Access Control System
FB3200: Double Wing Flap barrier for Additional Lane
FB3211: Double Wing Flap barrier for Additional Lane with RFID Access Control System
FB3222: Double Wing Flap barrier for Additional Lane with Fingerprint and RFID Access Control System
FB3000 is a single-lane flap barrier consisting of a master-device and a slave-device to form an entrance.
FB3200 is a double-wing flap barrier to be equipped with FB3000 to form multi-entrances.
Flap Barriers are well adopted in entrances and exits of buildings or construction sites, to help tracking staffs and visitors. Only authorized users are able to access to specific areas through the flap barriers. Lights on the barriers are to indicate status of the flap barriers. Steady green lights indicate locked barriers. Blinking green lights indicate accessible barriers.
ZKTeco's assembled access control system significantly reduces costs for business partners. RFID, fingerprint verification, face recognition, and vein verification technologies are available for options of flexible access control system
Electronic Anti-Pinch Function: Auto-suspension of door closure when human is detected.
Direct Current Operation: Low failure rate to ensure stability and reliability
Alarm Function: Auto warning and alarming if unauthorized entry with swiping card occurs.
Multiple lid options for different decorative style
| | |
| --- | --- |
| Passage Width | 600mm |
| Capacity | 25-30/minute |
| Flap opening/closing time | 1S |
| Overall Width | 1200mm |
| Barrier Height | 785mm |
| Power Supply | AC110-220V,50Hz/60Hz |
| Operating Power Consumption | 110W |
| Stationary Power Consumption | 60W |
| Temperature | -28-60 °C |
| Net Weight | 135Kg(FB3000), 86Kg(FB3200) |
| Gross Weight | 205Kg(FB3000), 121Kg(FB3200) |
| Two way traffic | Yes |
| Automatic Operation | Yes |
| Advanced sensor system | Yes |
| Audible alarm | Yes |
| LED lighting | Yes |
| Traffic indicator | Yes |
| Fail-safe | Yes |
| | | | | | | |
| --- | --- | --- | --- | --- | --- | --- |
| Model | FB3000 | FB3011 | FB3022 | FB3200 | FB3211 | FB3222 |
| Access Control | N/A | C3-200 | inBIO260 | N/A | C3-200 | inBIO260 |
| Reader | N/A | 2*KR100E | 2*FR1200 | N/A | 2*KR100E | 2*FR1200 |
| Card Capacity | N/A | 30,000 | 30,000 | N/A | 30,000 | 30,000 |
| Fingerprint Capacity | N/A | N/A | 30,000 | N/A | N/A | 30,000 |
| Event Capacity | N/A | 100,000 | 100,000 | N/A | 100,000 | 100,000 |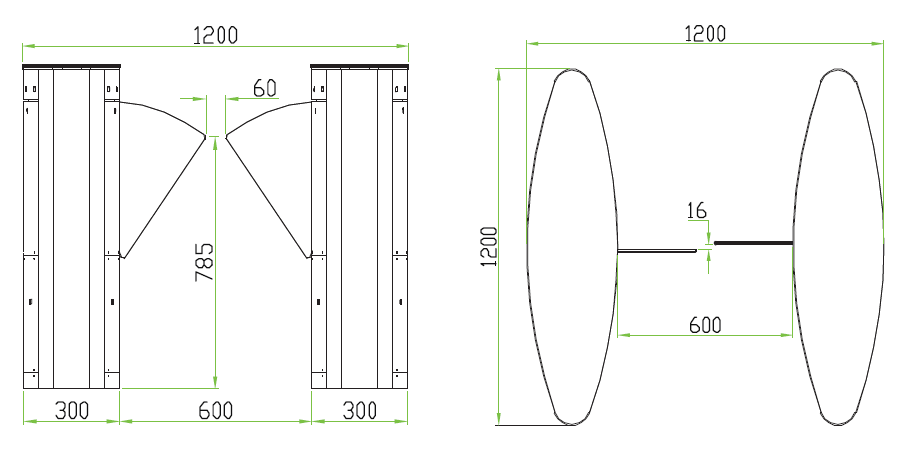 ';